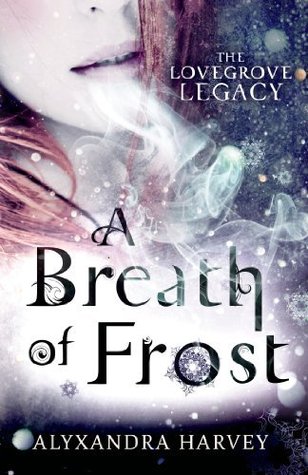 Today's post is on A Breath of Frost by Alyxandra Harvey. It is 496 pages long. It is the first in a new trilogy called The Lovegrove Legacy. The cover has the lower face of a young woman with frost coming out of her mouth. The intended reader is young adult but if you like good historical fantasy set in Jane Austen's timeline then you should try this one. There is some mild language, no sex, and some violence but mostly as action scenes and are not graphic. There Be Spoilers Ahead.
From the dust acket- Emma Day just wants something interesting to happen. Her debutant life of boring balls, tiresome curtsying, and polite conversation leaves much to be desired. Even the dangerously handsome Cormac Fairfax is too frustratingly enigmatic too woo her… despite the fact that she can't stop thinking about him.
But when debutantes start being murdered one after another- and Emma keeps finding their bodies- she can't help but think that this is not what she had in mind. Her world is turned upside down when she discovers her secret family lineage of witchcraft… and her own magical abilities. Now she and her two cousins, Gretchen and Penelope, must embrace their powers in order to stop the chaos, even is that means risking their lives.
Review- I had so much fun reading this book. I liked all the characters, the plot was interesting and fun, and the pacing was really excellent. I love historical fantasy books and Harvey has done an excellent job of making this world but accurate but interesting. The romance was there for those who need and love that but the main point of the story was mystery of who is murdering the young women and how are they doing it? The how is less to do with the 'how are they dying' and more 'how are the ghosts getting to the women to kill them'. Normally I like magic to just work and not be stopped by the details but I would like to understand more about magic in this world. It travels in families and sometimes it can skip a person or generation but that is not common. Emma and her cousins are sent to a school to learn about how to use their magic and I want to see more of it. The plot is really nicely paced without feeling rushed. I look forward to what Harvey is going to do next with Emma and company. Where she goes with the series will help me decide if I want to buy it or not. Right now I want to buy.
I give this book a Four stars out of Five. I get nothing for my review and I borrowed this book from my local library.