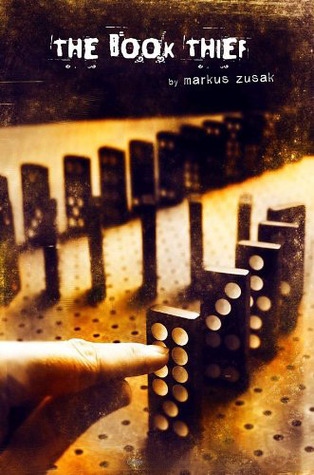 Today's post is on
The Book Thief
by Markus Zusak. It is 550 pages long and is published by Alfred A. Knopf. The cover is brown with dominoes on it. The story is told from the first person perspective of the narrator Death. The intended reader is young adult or someone interested in World War Two fiction. There is foul language, no sex, and violence in this book. There Be Spoilers Ahead.
From the back of the book-
It's just a small story really, about among other things: a girl, some words, an accordionist, some fanatical Germans, a Jewish fist-fighter, and quite a lot of thievery. . .
Set during World War II in Germany, Markus Zusak's groundbreaking new novel is the story of Liesel Meminger, a foster girl living outside of Munich. Liesel scratches out a meager existence for herself by stealing when she encounters something she can't resist–books. With the help of her accordion-playing foster father, she learns to read and shares her stolen books with her neighbors during bombing raids as well as with the Jewish man hidden in her basement before he is marched to Dachau.
This is an unforgettable story about the ability of books to feed the soul.
Review- An interesting book about a terrible subject. Having Death as a narrator is always an interesting choice and this book does it well. Zusak talks about a subject that could very easily be overwhelming and too hard for the intended audience but he handles it well. Liesel is a good main character and most of the main cast are interesting and sympathetic. Of course when you have Death as the narrator you know that it is not going to end well. Most of the cast dies and Zusak does not sugar coat it. He does not make anything about this book or subject easy but it is worth reading.
I give this book a Five out of Five stars. I get nothing for my review and I borrowed this book from my local library.