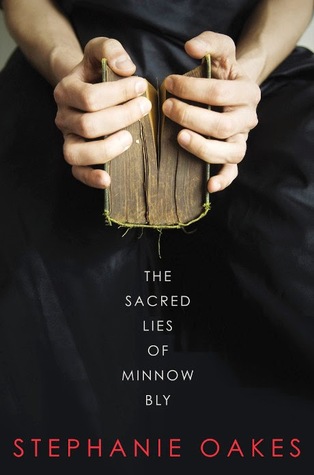 Today's post is on
The Sacred Lies of Minnow Bly
by Stephanie Oakes. It is 396 pages long and is published by Dial Books. The cover is black with a pair of young girl's hands holding a book. The intended reader is someone who likes young adult fiction, is interested in cults, and horror stories. There is mild foul language, implied sex, and violence in this novel. The story is told from the first person close of the main character. There Be Spoilers Ahead.
From the dust jacket-
The Kevinian cult has taken everything from seventeen-year-old Minnow: twelve years of her life, her family, her ability to trust.
And when she rebelled, they took away her hands, too.
Now their Prophet has been murdered and their camp set aflame, and it's clear that Minnow knows something—but she's not talking. As she languishes in juvenile detention, she struggles to un-learn everything she has been taught to believe, adjusting to a life behind bars and recounting the events that led up to her incarceration. But when an FBI detective approaches her about making a deal, Minnow sees she can have the freedom she always dreamed of—if she's willing to part with the terrible secrets of her past.
Review- This was a fast horror read. We start with Minnow waiting for the police as she has just beaten a man almost to death. She is very clearly in shock but the police just don't know what to do with her. Over the course of the book we move from Minnow's past to the present were she is in jail for the beating. This book does many things. It talks about the dangers of cults, the dangers of not questioning, and the dangers of being the one person who does. Minnow is a very sympathetic heroine who just wants to move on with her life but does not have the tools to do so. The horrors in this book are all too real if you know anything about cults and how they work. But Minnow just will not let the Prophet ruin her or her family and starts everything that ends and maybe saves more than herself. Interesting but scary read.
I give this book a Five out of Five stars. I get nothing for my review and I borrowed this book from my local library.