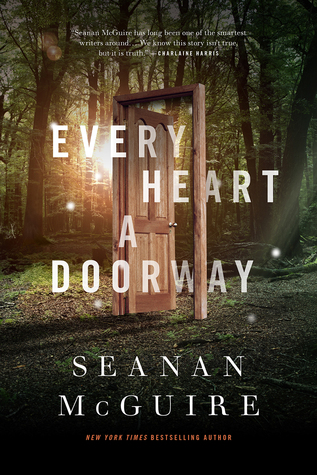 Today's post is on
Every Heart a Doorway
by Seanan McGuire. It is a stand alone novel but McGuire is going to be writing more in this world and that makes me very happy. It is 169 pages long and is published by TOR. The cover is green with a wooden door standing open in the center. The intended reader is someone who wonders what happens after the quest is done. There is mild language, mild sexuality, and violence in this novel. The story is told from third person of the characters moving as needed. There Be Spoilers Ahead.
From the dust jacket-
Eleanor West's Home for Wayward Children
No Solicitations
No Visitors
No Quests
Children have always disappeared under the right conditions; slipping through the shadows under a bed or at the back of a wardrobe, tumbling down rabbit holes and into old wells, and emerging somewhere... else.
But magical lands have little need for used-up miracle children.
Nancy tumbled once, but now she's back. The things she's experienced... they change a person. The children under Miss West's care understand all too well. And each of them is seeking a way back to their own fantasy world.
But Nancy's arrival marks a change at the Home. There's a darkness just around each corner, and when tragedy strikes, it's up to Nancy and her new-found schoolmates to get to the heart of the matter.
No matter the cost.
Review- This book is just incredible. I went into this book with high expectations and it blew them away. I remembered the longing as a child to find a doorway to some where else and this book made me feel it all over again. This book is as close to perfect as I can imagine. The characters, the setting, the plot, the everything about this book just works and it is wonderful. McGuire talks about more than just children returned from other places, she talks about people being different. She handles gender and sexual orientation both honestly and with great care. The mystery is excellent and I was so into the story that I did not guess the murderer until they were unveiled at the end. And the best part is it has a happy ending. I highly recommend this book.
I give this book a Five out of Five stars. I get nothing for my review and I borrowed this book from my local library.