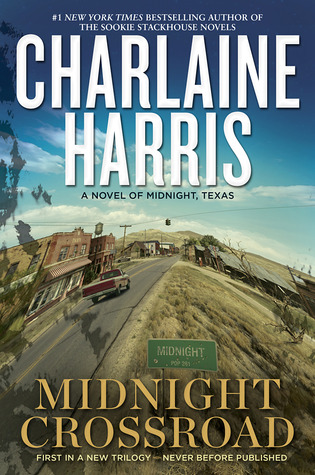 Today's post is on
Midnight Crossroad
by
Charlaine Harris. It is the first novel in her Midnight, Texas trilogy. It is 305 pages long and is published by Ace. The cover is a picture of the one street in Midnight. The intended reader is someone who likes urban fantasy and mysteries. There is some mild language, no sex, and some violence in this book. The story is told from the third person close of the main characters moving from one to the next as the story goes. There Be Spoilers Ahead.
From the back of the book-
From Charlaine Harris, the bestselling author who created Sookie Stackhouse and her world of Bon Temps, Louisiana, comes a darker locale - populated by more strangers than friends. But then, that's how the locals prefer it...
Welcome to Midnight, Texas, a town with many boarded-up windows and few full-time inhabitants, located at the crossing of Witch Light Road and Davy Road. It's a pretty standard dried-up western town.
There's a pawnshop (someone lives in the basement and is seen only at night). There's a diner (people who are just passing through tend not to linger). And there's new resident Manfred Bernardo, who thinks he's found the perfect place to work in private (and who has secrets of his own).
Stop at the one traffic light in town, and everything looks normal. Stay awhile, and learn the truth...
Review-
I am not a huge Harris fan. I read the first in the Sookie Stackhouse series and it just did not hit with me. But I really enjoyed this book. The best part is that Harris spends so much time making the setting of Midnight a character too. The characters were not bad, I did not guess the killer until the big reveal, and the writing was good. I will say that the story moves very slowly. I know that everything happens in a short amount of time like two or three weeks but it feels so much slower than that. I liked how slow it was, that is something different than most things written in both urban fantasy and just in general. The plot does have moments when things get going very quickly but mostly it is goes at its own pace. Read this for the excellent use of setting.
I give this book a Four out of Five stars. I get nothing for my review and I borrowed this book from my local library.