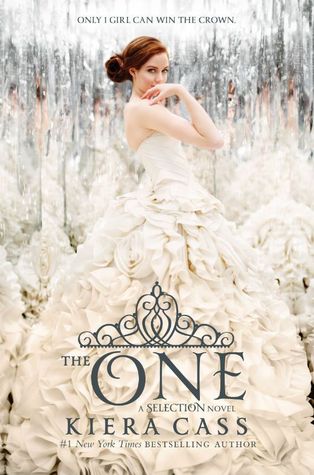 Today's post is on The One by Kiera Cass. It is the last book in The Selection Series. It is 323 pages long and is published by Harper Teen. The cover is white with the main character in a white dress looking at the reader. The intended reader is someone who has read the first two books. There is no sex, mild language, and some violence in this book. The story is told from the first person close of the main character America. There Be Spoilers Ahead.
From the dust jacket- The time has come for one winner to be crowned. When she was chosen to compete in the Selection, America never dreamed that she would find herself anywhere close to the crown- or to Prince Maxon's heart. But as the end of the competition approaches, and the threats outside the palace walls grow more vicious, America realizes how much she stands to lose- and how hard she'll have to fight for the future she wants.
Review-
For a final novel this was pretty good. I went into reading this series not thinking that I would like it. I have read and watched a lot of shows just like this but Cass does make her story stand out. I like America and I like the world that Cass has developed. I did find some the drama a little forced and out of character but that is okay it is a last novel and Cass is trying to tie everything up.
I would and, at the same time, would not be interested in Cass writing more in this world. If she does decide to write more I would like to see more of the world than what is in
The Selection
. The drama that I felt was forced was coming. Maxon and America had to deal with the fact that she had loved someone else before him. How I felt that it was forced was in Maxon's reaction. I really do not think that he would have taken it as far as he did. He was always a very reasonable character and that was a little extreme for him. But as it is a last novel I guess that Cass felt he needed to be a little more passionate. I am glad that he recovers his sense quickly. I look forward to reading whatever Cass writes next.
I give this book a Four out of Five stars. I get nothing for my review and I borrowed this book from my local library.